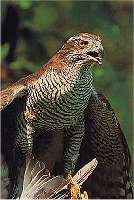 Speed limit for birds
The northern goshawk is one of nature's diehard thrill-seekers.
ScienceDaily
Scientists track Scottish seabirds by sat-nav
Scientists have found that seabirds around the Scottish coast are travelling further in search of food than previously thought.
BBC
All-white blackbird photographed
This unusual blackbird is attracting bird watchers to a Nottinghamshire country park.
BBC
Scotland's farmers and crofters urged to sign up for free farmland bird survey
RSPB Scotland is inviting farmers and crofters across the country to learn more about what birds are on their land, courtesy of a free, confidential, no-string attached survey.
RSPB
Rare early butterfly spotted in Falmouth
A Falmouth wildlife photographer has snapped a butterfly in his garden – a full two months before the creatures normally emerge for the spring.
Falmouth Packet
Hi-tech camera monitors migrating eels
The Environment Agency is using cutting-edge technology to track migrating eels.
Environment Agency
Spawning salmon double in Dorchester stream
The number of salmon spawning in part of a Dorset stream are believed to have more than doubled after conservation work to improve the habitat.
BBC
Isle of Man fishing closure to protect stocks
The Isle of Man government has closed a rich queenie scallop fishery to protect stocks against over fishing.
BBC
Modern practices push farmland birds to brink of extinction
Previously common farmland birds such as the corncrake, curlew and yellowhammer are now perilously close to extinction in Ireland, according to a four-year study of the island's bird populations.
Irish Times
Highs and lows for Irish Red Kites in 2011
After an absence of 200 years as a breeding species in Ireland, Red Kites are once again a familiar sight in parts of the east coast, thanks to the success of the Irish Red Kite Reintroduction Project.
Wildlife Extra
Why Britain's garden birds are staying in the country
It has been a hard winter for suburban bird spotters.
The Observer
Birds flock to reserve near Malmesbury
Starlings have been flocking from all over England and northern Europe to Lower Moor Farm Nature Reserve near Malmesbury, with spectacular aerial displays every evening.
Gazette and Herald
Barn owl wings adapted for silent flight
Their screech is one of nature's eeriest sounds, but barn owls hunt in almost total silence.
BBC
Man charged with shooting protected bird
A man is due to appear in court to face a charge of intentionally injuring a wild bird on the Isle of Wight.
Isle of Wight Radio
'Emergency measures' needed to stop River Lune drying up
Rivers in Lancashire could dry up unless emergency measures are adopted, according to a report by the Environment Agency (EA).
BBC
Ulster Wildlife raises Strangford Lough complaint
The Ulster Wildlife Trust has raised a complaint with the European Commission over fears that the Northern Ireland Assembly are not protecting Stangford Lough to their full obligation.
Insideireland.ie
'Bicycle pump' to turn wave power into clean energy
An aquatic "bicycle pump" is set to take to the seas and turn wave power into clean electricity after being acquired by green energy company Ecotricity.
The Guardian
edieEnergy
First UK marine energy park to be built in south west
Britain's first marine energy park will be developed in the south west of the country, in a bid to speed up the commercial expansion of the wave and tidal industry from 2020, the UK government said on Monday.
Reuters
Gwynt y Môr: Wind farm work to begin offshore near Llandudno
Building work is due to begin off the north Wales coast for one of the largest offshore wind farms in Europe.
BBC
Wind farm opposition make waves
Onshore planning headaches have posed further problems for Warwick Energy's Dudgeon offshore wind farm, to be built off the Norfolk coast.
Planning Portal
Call to follow Spanish and ban Spanish lanterns
Pressure is mounting on the Government to follow its Spanish counterpart and ban Chinese lanterns amid fears their release poses a fire risk, damages the environment and harms wildlife.
this is Bath
Deep in the forest, noble tradition of horse-logging risks dying out
It was a mainstay of rural life for generations, but in Scotland horse-logging is a dying tradition.
Scotsman.com
Legal issues for environmentalists
I thought it would be helpful to have a look at the sort of legal problems individuals and campaign groups are likely to have to face in challenging decisions taken by public bodies, such as local authorities.
For Argyll
Rising from the ashes
The Tump is the roundest, plumpest field on the farm. It forms the horizon line from the house, but when you mount it the views open both up and down the valley.
The Observer
The Battle of Boris Island
The fate of hundreds of thousands of migrating birds and the environment are hanging in the balance as the future of a possible airport on the Thames estuary is argued over by the London Mayor and the Prime Minister
The Independent
Residents say HS2 will "devastate" community in Haywood and Colwich
Residents living in Haywood and Colwich have insisted the HS2 high speed rail project will "devastate" their community.
StaffsLive
Urgent action needed to prevent England's rivers drying up
Britain's rivers are drying up. Unless emergency measures are adopted, some of our finest waterways could be reduced to trickles over the next few decades.
The Observer

22 stranded whales die on NZ beach
New Zealand officials say at least 22 pilot whales have died after being beached on the country's South Island.
ABC
BBC
WA tropical bird species respond to climate change
Climate change has already contributed to the southward shift in the breeding distribution of some tropical bird species in WA.
Science Network Western Australia
Scientists find new world that's heaven for spiders, hell for ants
Large hairy spiders whose front resembles the intimidating grille of a Hummer. Ant spiders who mimic ants, look like ants, live with ants and, when they get hungry, eat ants
The Age
How the rise of the megacity is changing the way we live
Amid a clutter of 24-hour arc lights, gigantic cranes and dumper trucks, a behemoth is rising out of a field of churned mud on the outskirts of Chengdu in south-west China.
guardian.co.uk
The man who crushed the Keystone XL pipeline
On November 6, 2011, Bill McKibben arrived at Washington, D.C.'s, Lafayette Park to protest the proposed Keystone XL pipeline, designed to carry oil 1,700 miles from Alberta, Canada, to refineries on the Gulf of Mexico.
boston.com
Texas drought raises need for Wis. cranes
Experts say the drought in Texas may jeopardize the already endangered whooping crane population, making a reintroduction program in Wisconsin crucial.
UPI.com
New stronghold for Japanese Murrelet found
A recent study led by the Wild Bird Society of Japan (BirdLife Partner) has found that the Izu Islands, on the Pacific side of Japan, hold the second largest concentration of the threatened Japanese Murrelet Synthliboramphus wumizusume (Vulnerable).
BirdLife International
WWF's Europe chief warns of austerity's effects
Tony Long, director of the World Wildlife Fund's European Policy Office, spoke recently to Kathimerini about the impact of Greece's austerity measures on its environmental policy ...
Kathimerini
Italy risks worst environmental disaster in 20 years
Italy risks its worst environmental disaster in more than two decades if the 2,400 tonnes of thick fuel in the capsized Costa Concordia pollutes one of the Mediterranean's most prized and pristine maritime reserves.
Reuters
Associated Press
Anti-whalers in clash with Japanese
Anti-whaling campaigners and the crew of a Japanese whaling ship have had a violent clash at sea, with the activists hurling containers of rotten butter and paint and getting sticks and teargas in return.
Sydney Morning Herald
ABC
Biodiversity crisis overshadows climate changes
The challenges of conserving the world's species against their rapid decline are perhaps even larger than mitigating the negative effects of global climate change, scientists said.
Times of India
Ocean acidity rise unprecedented in past 21,000 years
Carbon dioxide emissions caused by human activities over the last century have increased the acidity of the world's oceans far beyond the range of natural variations, which may significantly impair the ability of marine organisms such as corals and mollusks to form their skeletons or shells, a new study says.
Yale Environment 360
Scotsman.com
Responding to Climate Change
Huge pool of Arctic fresh water could cool Europe
British scientists have discovered an enormous dome of fresh water in the western Arctic Ocean. They think it may result from strong Arctic winds accelerating a great clockwise ocean circulation called the Beaufort Gyre, causing the sea surface to bulge upwards.
Study plugs gap in global warming puzzle
Researchers claim to have solved the 'missing energy' discrepancy between atmospheric and ocean temperature measurements, while at the same time showing that the Earth continued to accumulate heat during the last decade.
ABC
Weaker sun will not delay global warming
A weaker sun over the next 90 years is not likely to significantly delay a rise in global temperature caused by greenhouse gases, a report said Monday.
Reuters
Study authors insist shale gas worse than coal
Cornell University researchers on Thursday defended their conclusion in a study last year that drew heavy criticism for its finding that shale gas development produces more greenhouse gases than coal.
AlertNet
Higher EU CO2 cut 'fundamental' to developing world
An increase in the EU's carbon emissions reduction target to 30% on 1990 levels within eight years is 'very fundamental' to the developing world's interests, said the European chair of the G77 group of developing nations.
EurActiv
Climate scientists back call for sceptic thinktank to reveal backers
Leading climate scientists have given their support to a Freedom of Information request seeking to disclose who is funding the Global Warming Policy Foundation, a London-based climate sceptic thinktank chaired by the former Conservative chancellor Lord Lawson.
The Guardian
New ways of farming 'could slow bad effects of climate change'
The worldwide adoption of new, "sustainable" ways of farming could arrest the negative effects of climate change and population growth on food security, and protect farmers' income, according to a paper in the journal Science on Friday.
BusinessDay

eco-business.com
Climate change sceptic Bjorn Lomborg: 'I'm the victim'
The much-criticised author and climate policy sceptic Bjorn Lomborg has told the Ecologist he is the victim of a vendetta after his funding was cut by the Danish government.
Ecologist
Kiribati leader urges release of climate adaptation funds
The newly-elected president of Kiribati, says the international community is making progress, but countries vulnerable to climate change need adaptation funds as soon as possible.
Radio New Zealand International