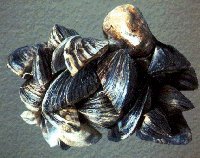 Zebra mussel and 'killer shrimp' threat to Isle of Man
Manx rivers and reservoirs are under threat from an invasive species of mussel, the government has warned.
BBC
Otters return to once-polluted River Mersey
Otters have returned to the River Mersey, which was once one of the most polluted areas of water in Europe.
BBC
Deer most recognised Scottish animal, survey finds
Deer are the type of wildlife the public associate most with Scotland, according to a survey commissioned by Scottish Natural Heritage (SNH).
BBC
Bird of prey rescued from mine shaft in Gloucestershire
A bird of prey that was trapped down a disused mine shaft in the Forest of Dean has been rescued by firefighters.
BBC
Just 30 pairs of barn owls left in Northern Ireland
The number of barn owls in Northern Ireland has dropped by nearly 90% over the last 80 years, with just 30 breeding pairs estimated to be left here.
Friends of the Irish Environment
Beavers released in Machynlleth enclosure
Beavers have been extinct in the wild in Wales for probably 400 years.
BBC
Water vole population increases in Goole
The number of water voles has increased in East Yorkshire after a "habitat heroes" project was set-up this year.
BBC
Hunters 'feeding foxes up to kill'
Hunts across the West are engaged in a 'nationwide criminal conspiracy to encourage and sustain fox populations in order that they can be hunted'.
this is Somerset
UK adds 13 marine sites to Natura 2000 list
The UK has added 13 marine sites to its Natura 2000 list as part of a major update by sixteen EU Member States.
fishnewseu.com
UK government announces £30 million offshore fund
The UK government has announced the creation two funds totalling a £30 million to go to companies developing innovations for the offshore wind sector.
WindPower Monthly
Project aims to protect village ponds
A major new scheme has been launched to protect ponds in villages across North Yorkshire.
Yorkshire Post
Helicopters to fly in to save Burnley moorland
Helicopters will be coming to the rescue of the moors above Burnley.
Lancashire Telegraph
Scheme to help boost wildlife near Witney
Work has started on a new 22-acre wood set to improve landscape and wildlife on outskirts of Witney.
Oxford Mail
Residents lose their fight against Nun Wood Wind Farm
Plans for a twelve turbine windfarm between three villages have been approved following an appeal.
BBC
Commercial wind turbines installed in Wiltshire
Another part of the West is having its first proposals for a wind farm after an energy company unveiled plans for three turbines near Trowbridge.
this is Bath
Huge reedbed to be created between Huntingdon and Peterborough
We will soon see a new reedbed created between Huntingdon and Peterborough as part of the Great Fen Project which aims to link up nature reserves in the Cambridgeshire.
Huntingdon People
BBC
Selsey sea defence project gets under way
Work has begun on a £15m flood defence scheme in West Sussex to protect a town hit by major flooding three years ago.
BBC
Europe expands protected areas but biodiversity battered
Europe's natural biodiversity heritage is showing "an alarming decline," according to new research published today by the European Red List, a part of the IUCN Red List of Threatened Species.
Environment News Service
BBC
EU proposes outright ban on shark finning
The EU has finally proposed an outright ban on shark finning, in a move welcomed by European Parliament fisheries committee Vice-President Struan Stevenson MEP, a longstanding campaigner against the practice.
fishnewseu.com
stv.tv
No conflict between renewables, wildlife: conservation groups
Renewable energy targets in the EU can be met without harming nature, a study released Tuesday by the RSPB and Birdlife Europe says, but it warns that some technologies do pose serious risks to wildlife.
Platts
Offshore wind: for the birds?
A recently published study on the ecological impact of a Dutch offshore windfarm found it was positively beneficial, but even its authors concede that much more research is needed to confirm its findings.
Utility Week
UNU announces launch of a groundbreaking global university research benchmarking system
The Global Research Benchmarking System (GRBS), the first international university research benchmarking initiative, debuts on November 23, 2011
EurekAlert!
Report questions legitimacy of Asia Pulp & Paper's conservation initiatives
A new report by an Indonesian environmental group casts doubt on Asia Pulp & Paper's commitment to sustainability.
mongabay.com
Complacency keeps native wildlife on the road to extinction
Every year on Tasmania's roads, about 4000 Tasmanian devils are killed.
Canberra Times

Chris Huhne launches public counter-attack on Lord Lawson
Chris Huhne, the Liberal Democrat energy secretary, has launched a public counter-attack on Lord Lawson, the former Conservative chancellor, over climate change.
The Telegraph
Shale gas push 'would wreck UK's climate change targets'
The UK will fail to meet its climate change targets if industry and politicians back controversial new plans to go ahead with widespread drilling for shale gas, according to a report published on Wednesday.
guardian.co.uk
Climate scientists scoff at stolen emails
Climate skeptics see gold in the latest batch of stolen emails from a British university server, purportedly showing that scientists colluded and propped up their data to demonstrate that greenhouse gases are changing the planet.
Politico
Himalayan nations agree to collaborate on climate
Nations are doing it for themselves. In the absence of a global agreement, four of the seven countries bordering the Himalayas have agreed to work together to deal with the harmful effects that climate change is expected to bring to the region.
New Scientist
Climate change a factor in spread of diseases – W.H.O.
Climate change may make it difficult for world governments to control the spread of diseases, especially the insect-borne ones, the World Health Organization said.
EcoSeed
Thoughts on species' abilities to survive rapid climate change
In an Opinion article published in Global Change Biology, Hof et al. (2011) note that recent and projected climate change is assumed to be exceptional because of its supposedly unprecedented velocity
CO2 Science Magazine